Oct 22, 2021 10:51 AM Central
Jessi Delgado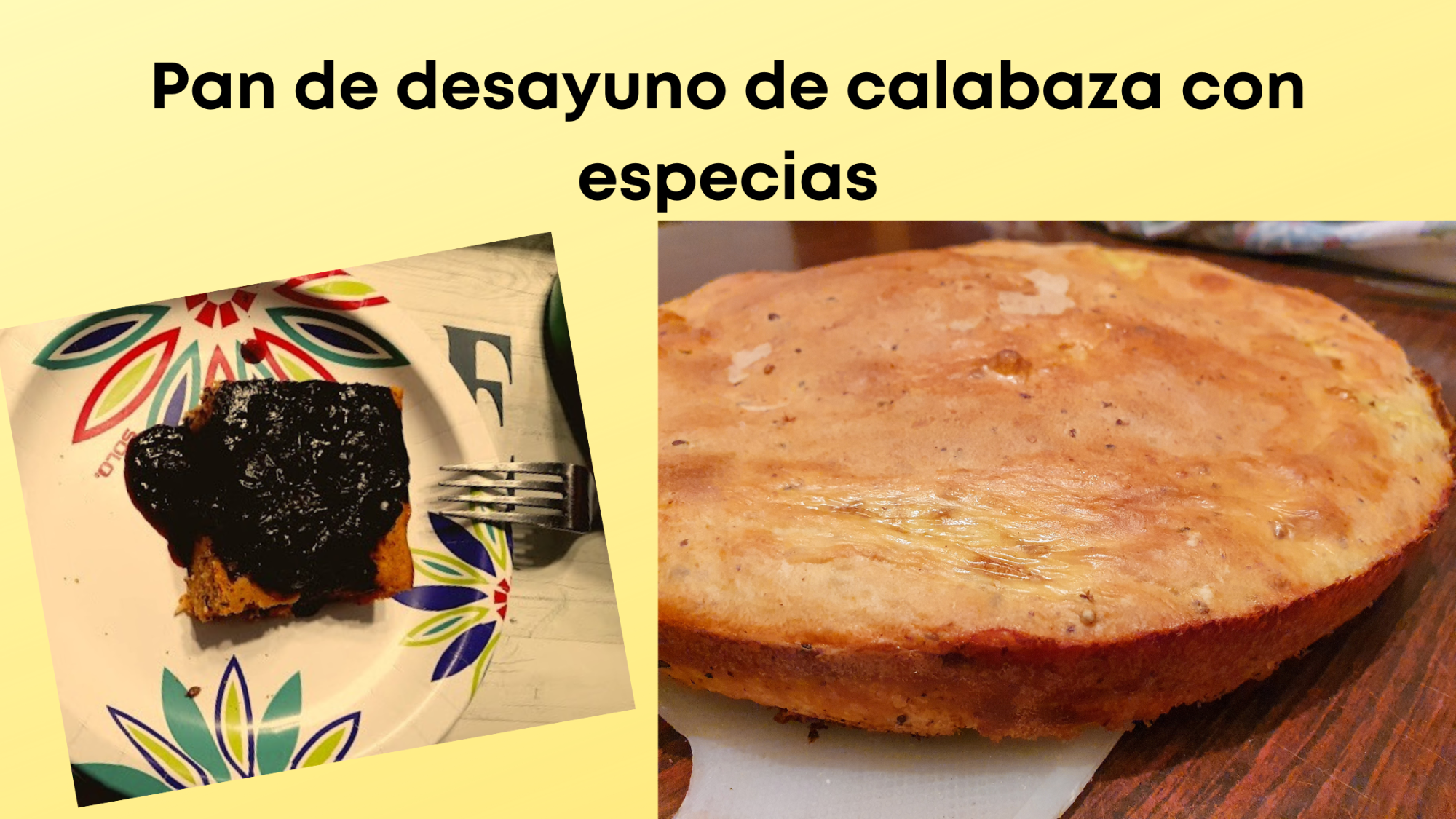 Siempre he disfrutado de los panes dulces para el desayuno. Cuando era niña, solía desayunar pan dulce mexicano con mi leche con chocolate. Lo sé, no era lo más saludable, pero fue el desayuno más delicioso que un niño podría pedir.
Hoy que soy más consciente de mi salud, elijo mejor mi desayuno, pero eso no significa que todavía pueda disfrutar de un buen pan dulce por la mañana. Este pan tiene ingredientes saludables que no te harán sentir culpable cuando lo disfrutes. Usé especias para darle un sabor especial. Entre ellas use canela, cardamomo, clavo, nuez moscada y especias de calabaza las cuales acentúaron el sabor de este pan.
Use la harina esta harina libre de gluten. y también añadí corazones de cáñamo - Estas pequeñas, semillas marrones son ricas en proteínas, fibra, y ácidos grasos saludables, incluyendo omega-3 y omega-6. Lea más sobre esta increíble comida aquí. También usé linaza. Me encanta usar linaza en mis panes porque ayuda a mejorar la salud digestiva, reducir la presión arterial y el colesterol malo.

Casi no comparto recetas en este blog, pero a todos en mi casa les encantó este pan, que tenia que compartirlo contigo tambien.. Si lo horneas, ¿compartirías una foto o una reseña del pan conmigo?
Ingredientes
1 ½ tazas de harina (usé esta harina sin gluten para mi pan)

¼ taza dede corazones cáñamo

2 cucharadas de linaza

1 cucharadita de semillas de chía

1 taza de puyre o su edulcorante favorito

1 cucharada de levadura en polvo (Royal o tu marca favorita)

1 cucharadita de canela en polvo

1 cucharadita de clavo molido

1 cucharadita de nuez moscada molida

1 cucharadita de cardamomo molido

1 cucharadita de especia de calabaza

4 huevos enteros

1 lata de puré de calabaza (15oz)

1 lata de crema de coco

1 cucharada de vainilla pura

2 cucharadas de aceite de aguacate (o mantequilla derretida)

1 manzana pelada y desmenuzada. Usé honeycrisp.
Combina todos los ingredientes secos y mezcla bien. En un recipiente aparte, bate los huevos. Agrega la crema de coco y vuelve a batir para incorporar. Agrega la calabaza y el aceite y la vainilla y vuelva a mezclar. Combina los ingredientes secos y los ingredientes húmedos y mezcla bien hasta que todo esté incorporado, pero no mezcles demasiado. Yo usé un batidor de mano, no creo que sea necesaria una batidora eléctrica. Incorpora la manzana con una espatula. Hornee en su fuente para hornear favorita durante aproximadamente 45 a 50 minutos a 375F (190C) o hasta que la barra salga seca.
Cuando lo sacas del horno, queda muy blando. Casi se siente como si estuviera crudo. Estábamos impacientes y lo cortamos cuando hacía mucho calor. No se riega por el plato ni nada, pero se siente muy suave. A medida que se enfría, se vuelve más firme. Sugeriría dejar que se enfríe por completo antes de comer.
Ponle tu topping favorito
Compota de frutas

Crema batida

Yogur griego

Jarabe sin azúcar

Plátanos y mantequilla de maní

Miel
Disfruta y no olvides de compartir si lo preparaste!
Oct 21, 2021 09:34 PM Central
Jessi Delgado
Spiced Pumpkin Breakfast bread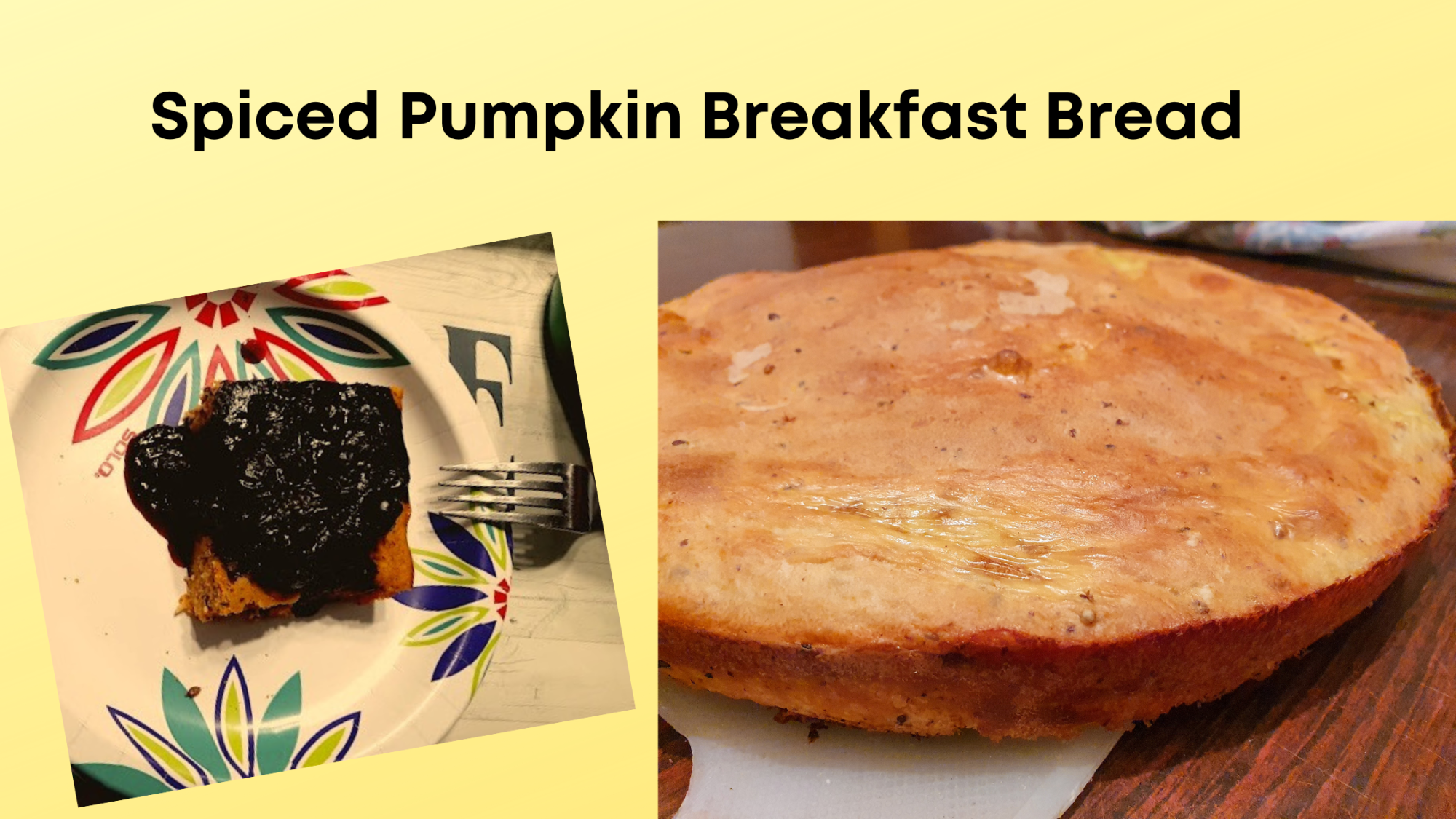 I've always enjoyed sweetbreads for breakfast. Growing up, I used to eat Mexican Sweetbread with my chocolate milk for breakfast. I know, not the healthiest, but it was the most delicious breakfast a kid could ask for.
Today, I am more health-conscious but that doesn't mean I can still enjoy a good sweet bread in the morning. This bread has wholesome ingredients that will not make you guilty when you enjoy it. I used cinnamon, cardamom, clove, nutmeg, and pumpkin spice and it got it a wonderful spicy flavor.

I used Pamela's Gluten-free flour, and I also added hemp hearts - These small, brown seeds are rich in protein, fiber, and healthful fatty acids, including omega-3s and omega-6s. Read more about this amazing food here. I also used flaxseed. I love using flaxseed in my bread because it helps improve digestive health, lower blood pressure, and bad cholesterol.
I know I don't share recipes often in this blog, but everyone in my house loved this bread that I had to share. Let me share the recipe with you. If you make it, would you share a photo or a review of the bread with me? (This blog contains affiliate links)
Ingredients
1 ½ cups of flour (I used this Gluten-Free flour for my bread)

¼ cup of hemp hearts

2 tbsp of flaxseed

1 tsp of chia seeds

1 cup of puyre or your favorite sweetener

1 tbsp of baking powder

1 tsp of powder cinnamon

1 tsp of ground clove

1 tsp of ground nutmeg

1 tsp of ground cardamom

1 tsp of pumpkin spice

4 whole eggs

1 can of pumpkin puree (15oz)

1 can of coconut cream

1 tbsp of pure vanilla

2 tbsp of avocado oil (or butter - melted)

1 apple - peeled and shredded. I used a Honeycrisp
Combine all dry ingredients and mix well. In a separate bowl, whisk eggs together. Add the coconut cream and whisk again to incorporate. Add the pumpkin and oil and vanilla and whisk together again. Combine dry ingredients and wet ingredients and mix well until all is incorporated - but do not over mix. I used a hand whisk, I don't think there is a need for an electric mixer. Fold in the apple. Bake in your favorite baking dish for about 45 to 50 min at 375F (190C) or until the stick comes out dry.
When you pull it out of the oven, it is very soft. It almost feels like it is raw. We were impatient and cut it when it was really hot. It doesn't run over the dish or anything, but it does feel very soft. As it cools it gets firmer. I would suggest letting it cool off completely before eating.
Top it with your favorite topping
Fruit compote

Whipped cream

Greek yogurt

Sugar-free syrup

Bananas and peanut butter

Honey
I topped mine with a simple blueberry compote. I just threw some blueberries in a pot over medium heat. I let them cook, stirring often. I added a bit of pyure and served them over my sweet bread.

Enjoy!